Cosmetic dentistry is generally used to refer to any dental work that improves the appearance (though not necessarily the function) of a person's teeth, gums and/or bite.
Veneers and Lumineers
The secret to those amazing smiles! Of all the methods available today for changing and improving the look of your smile, veneers are among the most popular and successful with our patients. Porcelain veneers or laminates are thin shells of porcelain custom fabricated to perfectly fit your teeth.
The process involves removing a small amount of tooth structure to make room for the veneers. A thin porcelain shell is then fabricated from the impressions.
Once the veneers are bonded to your teeth they are undetectable and you have the smile of your dreams.
We can design your smile to suit your. From a highly cosmetic, bright perfect smile to undetectable natural looking teeth with the twists and flaws that make your smile your own- and everything in between.
EXAMPLES:
Bright and Beautiful


Eight Feldspathic Porcelain Veneers

Lengthening


Eight Feldspathic Porcelain Veneers

Repairing the Smile

Four Feldspathic Porcelain Veneers
BLEACHING / TEETH WHITENING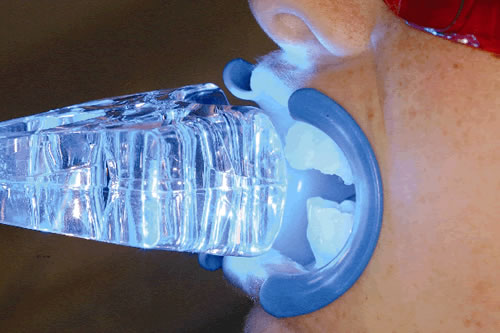 Are you unhappy with the color of your teeth? Would you like a brighter and healthier-looking smile? At Great Falls and Reston Family Dentistry, the dentists are experienced in helping patients brighten their smiles with strong, safe, and effective teeth whitening.
In-Office Whitening
With our in-office method, your teeth can lighten up to 10 shades in about an hour. We carefully apply a bleaching solution to your teeth, activate it with a no-heat lamp, and watch as the stains disappear. In-office whitening is perfect for patients wanting instant results that will last long-term.
Take-Home Whitening
Our professional-strength bleaching kits contain a higher concentration of active ingredient than over-the-counter systems. In addition, we will customize bleaching trays to fit your bite, so they will hold the potent gel against tooth enamel and keep saliva from diluting the chemical reaction. In most cases, patients are advised to wear their gel-lined bleaching trays daily for about 14 days. Many people notice whiter teeth after just one day's treatment, but maximum results surface after two weeks of use.
Sapphire Whitening
Zero sensitivity
With Sapphire Professional Whitening, you can bid farewell to sensitivity – the most common patient complaint about whitening. Not even a pre-treatment Aspirin is needed when you use this breakthrough chairside formula.
Easy maintenance for lasting results
Not only can you create bright, white smiles with Sapphire Professional Whitening, but also included in the kit is everything you need to maintain that radiance. Sapphire After Care is a complete maintenance kit with Sapphire Take Home Whitening and Sapphire Brilliance Toothpaste. Sapphire combines the speed of in office whitening with the longevity available with home whitening.
Unbelievable brilliance and health
Sapphire Professional Whitening allows you to achieve dramatic results quickly. When used with the Sapphire Supreme Light1, the system is proven to whiten smiles up to 7 shades in only 30 minutes. Sapphire Professional Whitening also allows you the flexibility to whitened smiles without light activation. Beyond beautifying smiles you can also protect them from demineralization and caries, thanks to the integrated fluoride.
With the Sapphire Supreme Light you can also say goodbye to complicated patient setup. Unlike other lights, it does not expose patients to harmful UV rays and thus does not require protective sunscreen or face masks.
Composite Bonding
Bonding is a common solution for:
Repairing chipped or cracked teeth
Reducing unsightly gaps or spaces between teeth
Hiding discoloration or faded areas on the tooth's surface.
Bonding is achieved by applying a composite material to an existing tooth. Unlike veneers or crowns, composite bonding removes little, if any, of the original tooth. Composite bonding is a quick process, usually taking less than an hour.